Recognising the Armed Forces Community
The Soldiering On Awards (SOA) recognise the outstanding achievements of those who have served our country, the diverse people and groups who work together in support of the Armed Forces Community. We aim to encourage support for this remarkable community by celebrating the achievements of the people, teams, and businesses within it.
The Rt Hon Earl Howe PC
Deputy Leader of the House of Lords Patron, Soldiering On Awards
Earl Howe is Deputy Leader of the House of Lords and former Minister of State for Defence. He took up this position in May 2015, moving from the Department of Health where he had been Parliamentary Under-Secretary of State for Quality since May 2010. In his former role as Minister of State for Defence (May 2015 to July 2019) he had ministerial responsibilities covering NATO and EU relations, commemorations, ceremonial, medallic recognition, arms control and proliferation, community engagement, and being spokesman in the House of Lords on all defence matters.
Educated at Rugby School and Christ Church, Oxford, Lord Howe joined Barclays Bank in 1973, where he served in a number of managerial and senior managerial posts both overseas and in London before being appointed London director of Adam & Co plc in 1987.
In 1991, Lord Howe became a government whip in the House of Lords. He served as Parliamentary Secretary, Ministry of Agriculture, Fisheries and Food from 1992-1995 and as Parliamentary Under Secretary of State at the Ministry of Defence from 1995-1997. In opposition he served as Spokesperson for Health from 1997 to 2010.
Lord Howe is an elected hereditary peer under the provisions of the House of Lords Act 1999. Apart from his frontbench responsibilities, Earl Howe has previously been a member of the all-party groups on penal affairs, abuse investigations, pharmaceuticals, adoption, mental health and epilepsy.
Earl Howe is married with four children.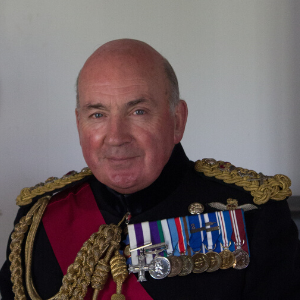 General the Lord Dannatt GCB CBE MC DL
Co-chair of Judges, Soldiering On Awards
Richard Dannatt was a soldier for forty years, concluding his military career as Chief of the General Staff – the professional head of the British Army. Since retiring from active duty in 2009, he was Constable of the Tower of London until July 2016 and, in 2011, he became an independent member of the House of Lords. He is a Deputy Lieutenant for both Greater London and Norfolk.
Lord Dannatt is a frequent commentator on defence and security issues in the media, and he is also on several boards in the private and charitable sectors. He holds a number of other appointments including President of Help for Heroes, and is a Trustee of the Normandy Memorial Trust, which is putting a national memorial in Normandy to mark the 75th anniversary of D Day.
He published his autobiography: "Leading from the Front" in 2010, with a second book: "Boots on the Ground – Britain and her Army since 1945" in October 2016.
Debra Allcock-Tyler
CEO of The Directory of Social Change
Debra is Soldiering On Awards Co-chair of Judges a position she shares with Lord Dannatt.  She has been the Chief Executive of the Directory of Social Change (DSC) since 2001. DSC exists to support charities to serve their communities and their causes and reaches around 15,000 charities a year through its work. She is a Trustee of In-Kind Direct, a Trustee of the Berkshire Community Foundation,  an AAF (Africa Advocacy Foundation) Ambassador for Women and Girls at risk of, or affected by, FGM and other harmful practices and, until very recently, was the Vice Chair of Governors of White Knights Primary School. She was the founder Chair of the Small Charities Coalition. She was a member of the Charity Commission's SORP Committee for 7 years.
Debra is particularly proud of her 15 years as a voluntary Trade Union Officer and the year she spent working with Youth at Risk. She is a mentor to a number of CEOs and Chairs of Trustee Boards. Debra is a renowned authority in the field of leadership and governance in civil society, and an internationally published author.
Lt. Col. Ren Kapur MBE
Chief Executive Officer
X-Forces Enterprise and Soldiering on Awards
Ren founded X-Forces Enterprise (XFE) in 2013. XFE is the UK's leading provider of business support and enterprise skills training to the military community, supporting over 2000 members of the military community into business.  Soldiering On Awards became a brand of XFE in 2018.
XFE holds Gold Status under the MoD's Employer Recognition Scheme and Ren is on the Gold Award Association Steering Group. She is a member of the All-Party Parliamentary Group, Women in Enterprise.
In 2009 Ren was appointed National Champion for Business Administration and Finance by the Education Secretary, and she was awarded MBE for services to Entrepreneurship in the Queen's 90th Birthday Honours List 2016.
"In what has been a record-breaking year for the number of nominations received, my thanks go to our category judges for the diligence and dedication they have applied to this important step on the path to decide who will be the 2021 SOA Finalists."
Martin Wing
Chairman
X-Forces Enterprise and Soldiering on Awards
Martin has extensive industry experiences gained over 35 years as an engineer and business consultant. He has led businesses and project teams to achieve their ambitions and has been a business owner for almost 20 years. An engineer by background, Martin began his commercial career with BAE Systems before progressing to support global brands, international government departments, and philanthropic organisations.
He has spent 22 years as a consultant, mostly for US-based management consultancy firm Kepner- Tregoe in Princeton, leading their European operation for five years until 2013. More recently he has built out the European operational capacity of Brazilian firm Integration, where he doubled the size of the operation and led a project recognised by the Management Consultants Association as Project of the Year 2017 for work with the UK Department for International Trade.
Martin has now moved from a Non-Executive Chairman role to Chief Operating Officer and Chairman of X-Forces Enterprise, Soldiering On Awards and X-Emergency Services.
He leads on organisational scale-up, strategy implementation, governance, and operational delivery for the organisations from their London-based headquarter.
Wg Cdr Tal Lambert MBE
Royal Air Force
Tal holds the position of Course Director RAF Division at the Defence Academy of the UK, Shrivenham. He has commanded at every rank and completed his Advanced Command and Staff Course achieving an MA in Defence Studies from Kings College in 2016. After his Operational tour in Afghanistan, he was awarded a Chief of the Air Staff's Commendation for delivering the communications solution for the Reaper Remotely Piloted Air Vehicle. Tal was appointed his MBE in 2013 for services to the RAF.
Tal founded the Soldiering On Awards (SOA) in 2010. He steered the awards programme for many years up until 2018, when following a successful partnership with XFESOA became a brand of XFE.   The success of Soldering on Awards is built on the foundations that Tal and other early volunteers laid. He is still a strong advocate of Soldiering on Awards and is always on hand to provide guidance to the current leadership team.
WO1 Rupert Frere
British Army, Command Master Photographer. Company Director, Schmooly.
Rupert Frere is the British Army Headquarters Master Photographer and company director of Schmooly media company. Rupert has won ,various awards for his photography and was the runner up in television show Master of Photography which was aired world wide on Sky. 
Rupert has deployed to various war zones as a front line photographer, taught photography to British Army Intelligence, worked as the Royal photographer in London and is currently working in Army Communications. Outside of the army Rupert runs photography workshops and is employed by various companies as their official photographer including Soldiering on Awards, The Royal Variety and The Invictus Games, amongst others.
Renée Wallen
Social Media, Weekend Witch
Renée is proud to be a member of our marketing team, creating content for the website and celebration brochures, as well as helping to share the finalists' and winners' stories via our newsletters.
Renée is a proud XFE Business Mentor, coaching military veterans to improve their marketing and social media skills. She also runs a Facebook group for the families of over 900 childhood stroke survivors, and gives strategy guidance and support to a national UK charity.
Renée is a published author and poet and has won an Inspirational Woman Award. In her free time she bakes blueberry muffins, paints portraits and wanders around antique shops and art galleries.
X-Forces (XFE) CIC
Registered Office: 37 Warren Street, London, W1T 6AD
Head Office: Mountbarrow House, Elizabeth Street, London, SW1W 9RB
Registered in England and Wales under Company Registration Number: 08034041
VAT Registration Number: 164148314